ID Theft and the Powerful
No one is immune to identity theft
September 11th, 2009 Phillip Britt
The wife of Federal Reserve Chairman Ben Bernanke was recently snared by an identity theft ring. A doctor's receptionist pleaded guilty to a single count of conspiracy to commit bank fraud in the scheme where, according to published reports, the fraudsters stole more than $2 million from 10 different banks.
The receptionist was part of the wider fraud ring, but not part of the smaller circle that stole purses and wallets in order to steal financial and personal information. The ring included others who, like the receptionist, worked in places with easy access to personal information of customers and patients.
The case highlights a important elements when it comes to identify theft – everyone, no matter how careful, is a target. And, importantly, quickly taking the proper steps can minimize or even eliminate the loss of identity or money.
In the Bernankes' case, a purse stolen while they were patronizing a Starbucks contained a checkbook for a joint account as well as credit cards. But the important element was that the Bernankes immediately reported the loss to their bank, which then took action to keep the fraudsters from stealing any money directly from the Bernankes' bank accounts.
Identity theft experts recommend – as the instance demonstrates – that as soon as a credit card, checkbook or any other personal information is lost or stolen, the crime be reported immediately to police and the appropriate financial institutions.
Another step one can take is to place an initial fraud alert on credit reports at each of the three major credit reporting agencies – Equifax, Experian and Trans Union. The fraud alert notifies a business to take extra steps to verify the identity of the true account holder before issuing credit.
To place an initial alert on one's account, a person is required to provide appropriate proof of identity, which may include Social Security Number, name, address and other personal information. Additionally, the Federal Trade Commission also recommends including a cell phone number when placing an initial fraud alert in order to prevent delay when legitimate requests for credit from the consumer are processed.
Remember, to decrease your odds of becoming an identity theft victim:
• Don't leave laptops, purses, cell phones or anything else that contains personal information unattended. A locked car, with a visible laptop, purse, etc., is just an invitation for a "smash and grab" crime.
• Use automated updates to keep security up to date on laptops, smart phones and desktops.
• Don't share passwords or write them down where they can be seen by others.
• Don't use easily cracked passwords (e.g., "password")
• Use a combination of letters and numbers for passwords.
But, the most important thing to remember is that each and every one of us – even the Chairman of the Federal Reserve – can become a victim of identity theft. So, take precautionary steps to protect yourself and your family.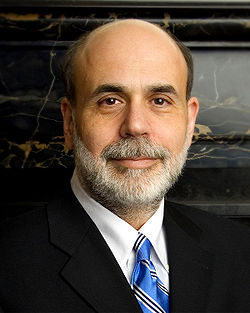 Federal Reserve Chairman Ben Bernanke